Kress coal haulers
higher productivity
Kress Coal Hauler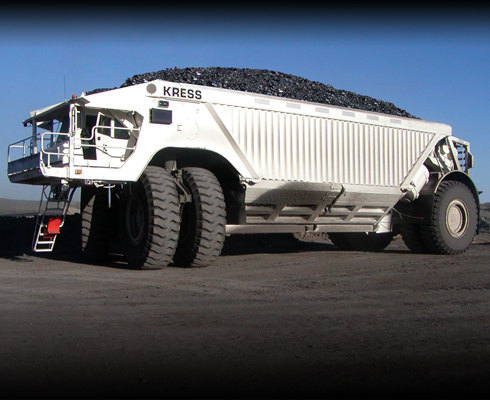 Kress
Coal Haulers
Engineered for Performance..
Designed for Comfort..
Built to Last!
Kress unitized bottom dump coal haulers have a high payload to weight ratio, a high power to weight ratio and a Kress suspension system which is up to five times softer than the tires. These features allow the unit to travel at higher speeds, which translates into greater productivity and efficiency. This is especially important since most mines will be experiencing longer hauls in the coming years.
Kress Coal Haulers - 200CII & 200CIII
Highest Payload to weight ratio in the industry

Fast Transport and smooth ride

Excellent maneuverability and stability

Higher productivity, lowest cost per ton
Brochure on Kress Coal Hauler
200CII
200CIII